Full-fledged Sichuan Chinese 50 species "All you can eat" & "All you can drink" 120 minutes 4320 yen ⇒ 4000 yen (tax included)
Course details
Full-fledged Sichuan Chinese 50 species "All you can eat" & "All you can drink" 120 minutes 4320 yen ⇒ 4000 yen (tax included)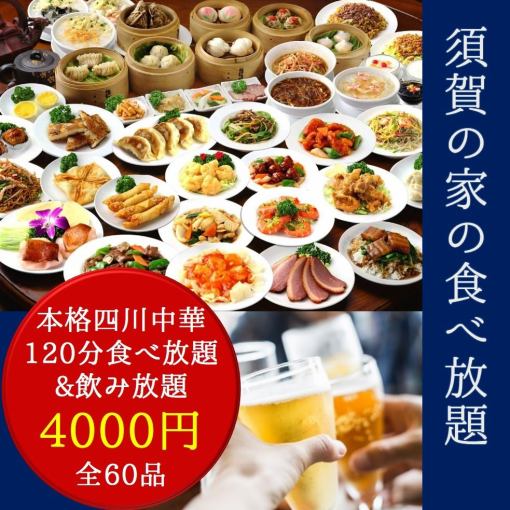 By using a coupon4000 yen
tax included
All-you-can-drink available

All you can drink beer & Shaoxing wine !! Please enjoy with authentic Chinese cuisine ...
Available days for reservation

Monday - Sunday - Public holidays - Holidays
All-you-can-eat all-you-can-eat & drink all-you-can-eat ♪ such as plentiful rice chestnut prawns and boiled eggs of sweet and sour pork ♪ It is also perfect for banquets
Course menu
All 50 kinds are all you can eat !!
All you can eat from popular Chinese menu, full-fledged Sichuan cuisine ♪
[Menu all-you-can-eat]
◆ vegetable salad ◆ banban ◆ jellyfish cold dish ◆ dried tofu salad
◆ Petan ◆ Pork Foot ◆ Potato Fly ◆ Edamame ◆ Kimchi ◆ Za Sai ◆ Stir-fried bean ◆ Stir-fried vegetables
◆ Blue Fried Fried ◆ Nirareba Fried ◆ Tomato and Tamago Stir Fried ◆ Kanbama ◆ Cooked Pork Meat
◆ Hachihata ◆ Blue pepper meat ◆ Stir fir and sand liver ◆ Tangle cartilage ◆ Deep fried chicken ◆ Deep-fried chicken
◆ Eurinch ◆ fried chicken with peanut ◆ stir-fried pork and garlic ◆ ginger-fried pork
◆ Simmered pork ◆ Ebi chilli ◆ Ebimayo ◆ Pepper and moch fried ◆ eggplant and fried pork ◆ sweet and sour pork
◆ Grilled dumplings ◆ Water dumplings ◆ Shrimp baked goods ◆ Meat dishes ◆ Small dragons ◆ spring rolls ◆ sesame dumplings
◆ Vegetable fried rice
◆ Fried Rice ◆ Taiwan Ramen ◆ Yakisoba
◆ Egg soup ◆ ◆ Annin tofu ◆ vanilla ice
※ The content of cooking may change slightly depending on the purchase situation
All-you-can-drink menu
·beer
Asahi draft beer
Shochu
· Wheat & potato 【Rock · water split · hot water split】
·Whisky
· High Ball · Rock · Water · Split hot water
·plum wine
· Rock · Water · Sour
·Cocktail
· Cassis soda · Cassis grapefruit · Cassis orange · cassis oolong
Sour & sake High
· Lemon Sour · Orange Sour · Blue Ringo Sour · Angkresi Sour · Oolong High · Lime Sour · Calpis Sour · Grapefruit Sour · Shiba Hakka Sour
·Sake
And cold Kang
·Fruit wine
· Genresu sake · Kei flower sake
- Shaoxing rice wine
· Rock · hot soup · sour
· Chinese tea
· Iron Kannon 【Oolong】 · Jasmine tea · Pu'er tea
·Soft drink
· Orange juice · Grapefruit · Calpis · Coke · Oolong tea 【Ice】 · Jasmine tea 【Ice】
2018/07/04 update